There's a lot to be said about leftovers – thrifty, comforting, time-saving and, in many cases, even more delicious than in their original state, as is the case with stews, ragus, and anything where flavours left mingling for days only improves the dish. Whether you're cooking for one, for many or are a sleep-deprived new mother at the beck and call of a six-month old, re-inventing leftovers can sometimes be the best answer to dinner.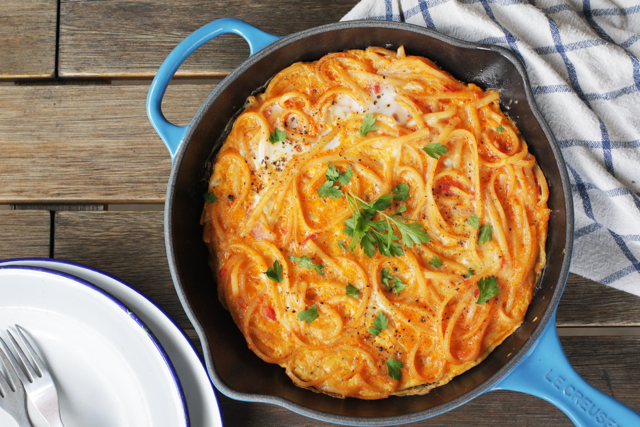 Gli avanzi, leftovers, also the backbone of traditional peasant cooking. Leftover bones make broth. Leftover bread makes hearty Tuscan soups. Leftover ragu fills stuffed vegetables or arancini, for example. Leftover risotto the same. Even leftover roast beef, bollito (boiled meat) or crumbed cotoletta alla milanese can make the most delicious meal of braciole rifatte, while leftover chicken alla cacciatora becomes pollo scappato (that would be the tomato sauce, flavoured by the chicken, but minus the chicken). Big batches of seasonal fruit or vegetables that are homegrown or the cheapest produce at the market mean you could be eating the same thing for days – so a little reinvention goes a long way, even for a peasant.
Not every dish however produces good leftovers – leftover pasta, for example, often goes to waste. It's just no good reheated unless it's a baked pasta dish such as lasagne. But there is one rather clever way to use leftover pasta, so good, in fact, that you may want to prepare a fresh pot of pasta just as an excuse to make this dish! It's a frittata, which is in itself one of the best dishes for using up things you have on hand (but with respect to the frittata, not everything always goes well in a frittata, more is less I say).
A handful of eggs, a handful of freshly grated Parmesan cheese, leftover spaghetti and some fresh herbs and you have yourself the perfect one-pan meal in under ten minutes. It can be eaten warm or cold and sliced into wedges or even made into individual portions in a muffin tray and baked, and is just as good as a portable picnic dish as an antipasto. What more could you ask for from some leftovers?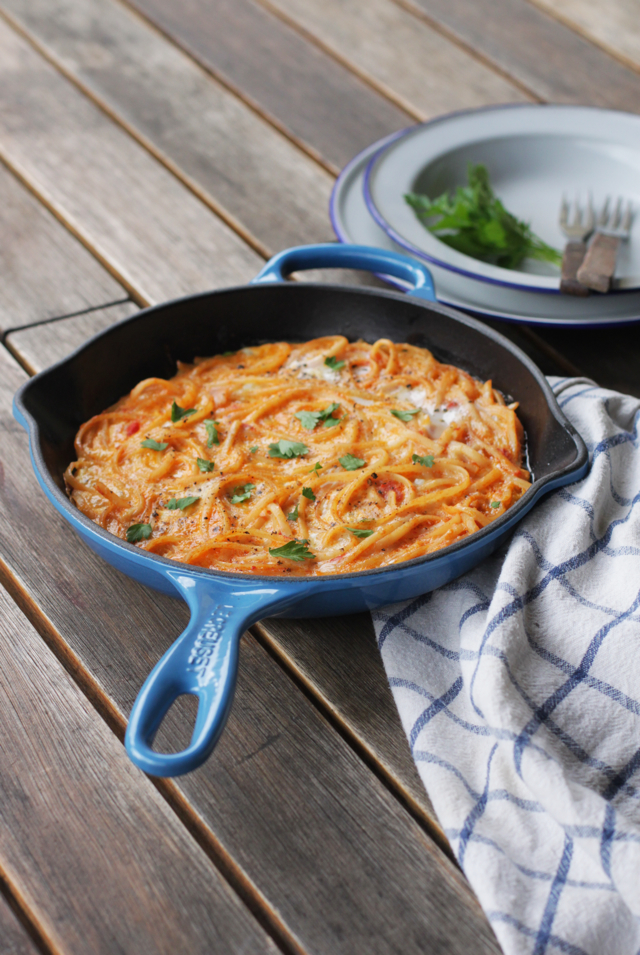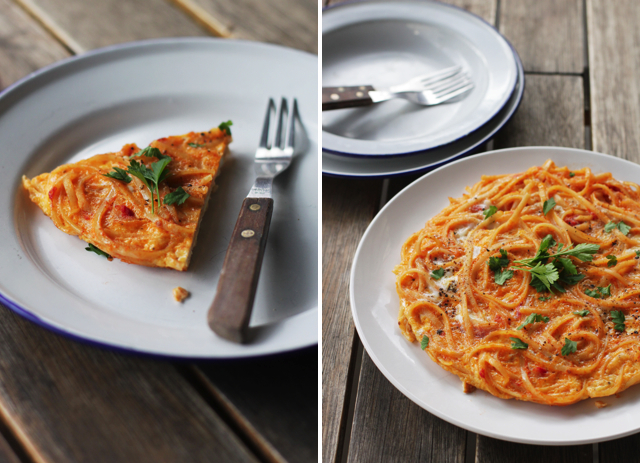 Frittata di spaghetti
Makes 1 pan sized frittata – enough for a simple lunch for two, perhaps with a salad, or as part of an antipasto for 4-6.
4-5 eggs
A very generous handful of freshly grated Parmesan cheese
Salt and pepper to taste
1 portion of pasta al pomodoro (about 80 grams of dried pasta, cooked and tossed in a tomato sauce)
extra virgin olive oil
Fresh herbs such as parsley, basil or oregano
Beat together the eggs and cheese until creamy. Season with salt and plenty of cracked pepper. Oil an ovenproof frying pan generously with extra virgin olive oil and place over a low flame. Arrange your spaghetti over the entire pan to cover it evenly. Allow to cook for 1 minute before pouring over the eggs – try to cover the pan evenly. Cook over low-medium heat until eggs begin to set, then transfer the pan to a grill to cook the top until golden. Serve warm or cold with freshly chopped herbs and for the carb-lovers, some crusty bread.
Notes:
This is nice with any long pasta, in fact in the photos I've used linguine instead of spaghetti. And naturally you can use pasta dressed in any sauce, really – pesto, amatriciana (guanciale and pecorino cheese are added to tomato sauce) or carbonara would all be fantastic.
The amount of eggs you'll need really depends on how much pasta you use, how large your eggs are and how thick you want your frittata. Go with your instincts and your preferences.
If you're making this for a picnic and you want it to be more manageable for eating with hands add an extra egg to cover the pasta.
Original Website: Frittata di spaghetti | Emiko Davies